Ausjet Inkjet & Laser Supplies Blog
---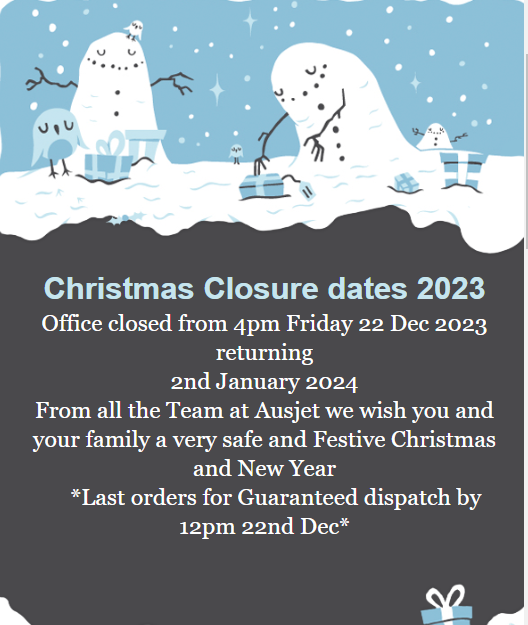 ---
Ausjet is proud to release a high quality Black, Cyan, Magenta and Yellow remanufactured cartridge range (Replacement for OEM Codes 915XL and 965XL)

Product Codes:
PH-915XLB
PH-915XLC
PH-915XLM
PH-915XLY

PH-965XLB
PH-965XLC
PH-965XLM
PH-965XLY

---
Hello! Welcome to the second last month of this quite frankly challenging year that is 2020. As we all slowly come out our various confinements and restrictions due to the still current pandemic, it is encouraging to see that businesses are fighting hard in delivering outcomes and staying loyal to their customers and indeed vice versa. We here at Ausjet have always strived to service our clients and their customers with respect and diligence and this has not changed over the year despite the constant shifting sands of business conditions in 2020.
Ausjet has had plenty of new and updated compatible products over the year such as the Ausjet branded 212, 39, & 312's for Epson printers as well as the 253/257 series for Brother printers, a new range of "Made in the USA" Kodak bulk ink and new paper products, as well as the updated APSOU database. We will continue to research the market and release products that suit current consumer demand.
If you're reading this blog and have any questions at all regarding any of our many products and services, please reach out to us using our website enquiry page or email your Account Manager.
Thank you for supporting our business and we hope to make contact or continue to service your business in the near future.
-The Ausjet Team.
---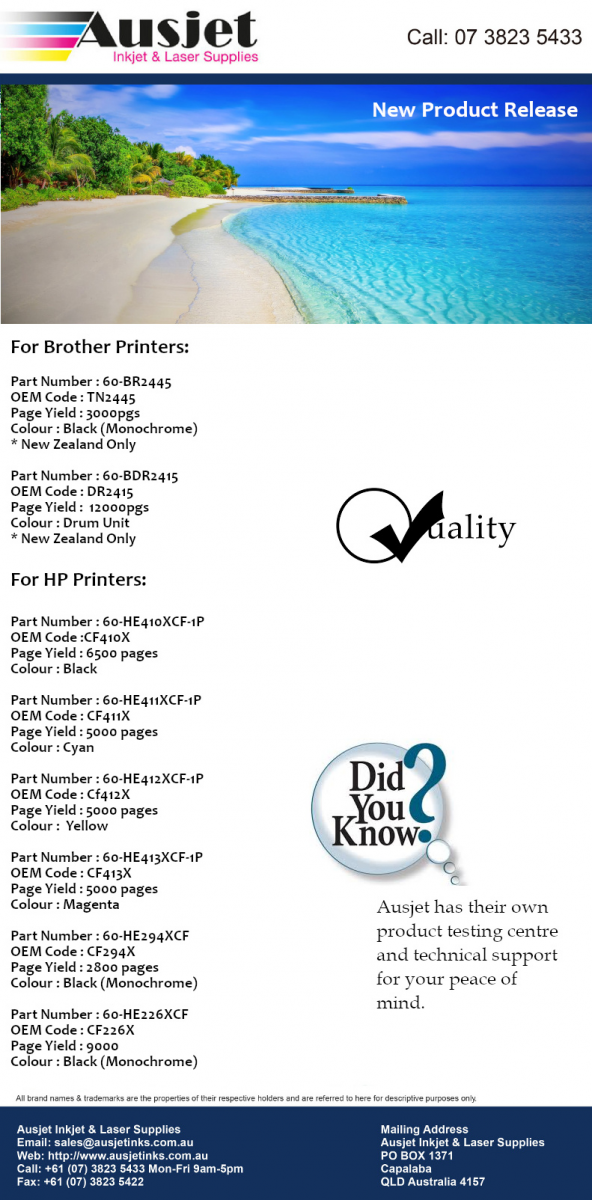 ---
Introducing APSOU
APSOU stands for "Ausjet Product Search & Order Utility"


Install APSOU on your PC and you can now easily and quickly :
Search printer models for cartridge compatibilty
Search cartridge models and see printer compatibility
Quickly see the buy price of the product
Quickly see if the product is in stock in the Ausjet warehouse.
Place Orders - Standard or drop ship (order is automatically uploaded to Ausjet)
Download current promotions to print or email (This feature is still in development)
Search Utility
We understand how important it is to quickly get information regarding printer and cartridge compatibiltiy. With APSOU this is now a breeze.
Quickly see the following data :
OEM Code
Ausjet Code
Printer Models
Stock levels
Buy Price
Product Image if required
Order Utility
If you have been looking for a quick and efficient way to place orders with us. APSOU is for YOU!

Order to your Store or get the order directly delivered from our warehouse to your customer.


Promotions
Although this feature is still in development, when this feature is fully developed it will allow you to download current promotions and artwork.


---
SETVPHP65XL Now Available

Packaged in the Ausjet Professional Colour Value Pack retail packaging. This new product for the popular low end HP Inkjet printer models is sure to be popular.

Product Code:
SETVPHP65XL

The Value Pack contains :
2 x Remanufactured HP65XL Black Cartridges
1 x Remanufactured HP65XL Colour Cartridge.

Suitable for the following printers :
Deskjet 2620, Deskjet 2621, Deskjet 2623, Deskjet 2624, Deskjet 3720, Deskjet 3721, Deskjet 3723, Deskjet 3724, Desjet 5020, Deskjet 5030, Deskjet 5032, Deskjet 50034, Deskjet 5075, AMP 120, AMP 125.

For more information on this product click here.
---
Ausjet Professional Colour Series 302XLs Now Available

The latest addition to our Professional Colour Inkjet Series. Each cartridge is powered by a high quality ink with German colourant and the latest chip technology.

PE-302BXL Black
PE-302CXL Cyan
PE-302MXL Magenta
PE-302YXL Yellow

For use with the following Epson Printers:
XP 6000

Click here for more information on these new products
---
Ausjet Professional Colour 702XL now available
The latest addition to our Professional colour inkjet series. Each cartridge is powered by a high quality ink with German colourant and the latest chip technology,

PE-702BXL Black
PE-702CXL Cyan
PE-702MXL Magenta
PE-702YXL Yellow

Suitable for use with the following printers:
Workfoce Pro WF3720, Workforce Pro WF3725

Click here for more information on these new products.
---
Updated Sensient and Kodak Deskjet Bulk Ink Compatibility
With the introduction of the Kodak Range and the consolidation of Sensient inks to cover more cartridge models there has been some product code changes.

To download the latest compatibility guide click here.

Refill tool for HP 932/933/950/951 now available!
We have a new tool that makes refilling these cartridges quite simple. It's a manual syringe based tool with a special adaptor that allows you to vacuum fill these cartridges.

No need to remove plugs etc - very simple to use!

For more info on the tool click here
---














Kodak Bulk Ink
Around twenty years ago I had a chat to a gentleman from Kodak, a certain Doctor in Colour Science who's name now has now unfortunately escaped my memory. I remember thinking how great it would be for us to be able to sell Kodak ink. How fantastic it would be for the industry to have the worlds best Imaging brand and one that demanded so much respect associated with it. It was only a quick chat but one I have always remembered.
For those that don't know Kodak has a truly amazing history. In April 1880 George Eastman leased the third floor of a building in State Street in Rochester New York and began the commercial manufacture of dry plates. The name Kodak was registered in 1888 and that same year the first Kodak camera was released and took round pictures 6.4cm in diameter. It carried a roll of film of 100 exposures and is regarded as practically starting the amateur photography industry.
From 1888 to now Kodak has been a leader in film, imaging, cameras, imaging, inks, papers and probably a million other products and patented ideas that I wouldn't have any knowledge about.
So when I noticed Kodak again, I couldn't help but ask them if they had inks available or could manufacture a custom ink. To my great surprise, they already had started manufacturing inks suitable for our needs. It was a great feeling to receive samples with the Kodak name on it and to be dealing with Rochester in New York.

So it's a very proud moment for Ausjet to be now associated with the Kodak company. Not only can you now say to your customers "we are using Kodak ink inside the cartridge we just remanufactured for you" but you also are getting ink from a true OEM and the benefits that come with that. Remember Kodak use to also produce their own desktop and wide format printers. They have over 120 years of imaging science behind them, the inks are manufactured to the highest quality, they have probably the smallest pigment particle size in the industry, ultra filtered and all manufactured in the USA. They have tremendous understanding of coatings and ink interaction as they have been manufacturing coated inkjet papers for many years. I could go on forever….

Ausjet supply both Kodak and Sensient! Each are world class ink manufacturers that to be honest, we are very lucky to be able to provide to you. In this world of big business, big contracts and big money this might just be a win for us small guys. Take advantage of it ...it doesn't happen often!

For our current list of Kodak Inks Click here. In the next few months we will be extending our range of Kodak Inks to cater for more and more cartridge models.


ACCC - HP To Compensate Printer Customers
If you remember back in 2016 in our technical bulletins. We mentioned that there was a firmware update from HP that had caused all sorts of issues with the aftermarket printer cartridges (ie Ausjet etc). The cartridges that were affected were the 934/935, 950/951 and 970/971 and their associated printers :

Officejet Pro 6230, Officejet 6820, Officejet Pro 6830, Officejet Pro 6810, Officejet Pro 6820, Officejet Pro 6830, Officejet Pro X551dw, Officejet Pro X476dw MFP, Officejet Pro X576dw and Officejet Pro X451dw.

There were all sorts of complaints and media attention at the time which led to HP releasing a new firmware update that would allow those cartridges to work again. But it seems the ACCC has now found that the initial firmware update and its damage very has likely to have contravened sections 18,29(1)(g) and 33 of the Australian Consumer Law(ACL).

A compensation program has been put in place to allow customers who were unable to use their printers on or after the 13th of September 2016. So, many of your customers may be entitled to this compensation of $50 Australian dollars.

For more information read the following information from the ACCC and HP.

https://www.accc.gov.au/media-release/hp-to-compensate-printer-customers

https://www.accc.gov.au/public-registers/undertakings-registers/hp-pps-australia-pty-ltd

Here is the link to the compensation program from HP :
http://www8.hp.com/au/en/compensation-program.html
---